South Africa's Mors Design, a local, sustainable small business in Cape Town, is recycling discarded inner tyre tubes and feeding its recycled products into homes, hotel chains and restaurants beyond Africa.
Tyre Tube Recycling in South Africa
Founded in 2015 by Raihana Govender and her co-founder, the upcycling initiative's products consist of a variety of bags, hand-woven laptop bags, chandeliers, and small furniture. All products are handmade from intricately woven, stitched, braided, and patched pieces of recycled rubber.
The idea for the business was sparked by a furniture designer, her co-founder, who had crafted a bag out of old tyre tubes.
"I was so in love with the bag he had made. I couldn't believe that it was made from recycled tyre tubes," Govender explained.
She saw it as an opportunity for them to manufacture products from recycled tyre tubes. A year and a half later, she bought up the shares, revamped the company and did a redesign to appeal to a wider audience.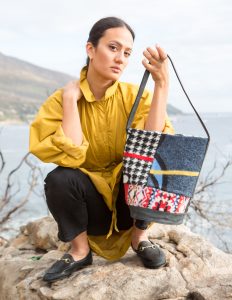 Mors Design was started out of the need to create an eco-ethical sustainable brand that addresses many of the issues South Africans face. "We have a huge unemployment problem and plenty of pollution. Tubes have the same issues as tyres. We face the same problem because there is no other way of disposing of them." Govender told Tyre and Rubber Recycling
Govender says it is much easier working with inner tubes than working with tyres due to their flexibility, and they do not require the use of machinery.
Govender and her team collect discarded tubes from the landfill. They take the material to their studio and clean it, do the hand-cut and hand-stitch depending on the style of the bag.
"The handmade products are made in our studio by disadvantaged women and refugees (predominantly from Malawi), allowing them to become self-sufficient."
"It is fantastic because the people that are making our handmade products never had any skills in bag making, and one of the aims of Mors Design was that we would teach people the skill of manual bag making, so they would not have to struggle with finding the capital needed to purchase machinery."
She said when they started the company in 2015, they saw it as a chance for them to give those tyre tubes a second life; "We saw it as an opportunity to turn them into beautiful, usable products that are pleasing to people who may want to use them, and the feedback so far has been awesome," Govender told Tyre and Rubber Recycling.
Additionally, Mors' workers have been able to work with other local designers, utilising discarded fabrics from their collections. "For instance, the Basotho blanket that you'll see in some of the bags is Thabo Makhetha's signature material," says Govender.
"We have also included hand-woven material from African Jacquard. We believe that collaboration brings inspiration and unity, and, in this way, amazing friendships can develop. It creates a platform for designers to feed off each other, exchange ideas and thoughts, and share networks."
"We do beautiful hand-woven recycled tyre tube bags; we do quite a few different styles of women's bags, we do laptop bags for both men and women. We also do business folders and chandeliers, and these are what makes us unique," said Govender.
While Mors boasts of its products from recycled inner tyre tubes, it is faced with a lack of support from local consumers in South Africa. "So, we are trying to change the mindset of South Africans towards recycled products, and it is changing and moving slowly in the right direction compared to about 15 years ago," she said. "Things are changing, but the pace is slow."