Signus Ecovalor has been one the leading operations in Europe for their integrated tyre management system, but additionally their investment in innovative projects that promote the use of recycled tyres have caught the eye in recent times, with the Spanish EPR Group being at the forefront of new projects such as its role in activities related to sustainable fashion. This has been exemplified by the organisation's support for the training platform, consultancy and sustainable fashion network Slow Fashion Next.
Neomatique: What is it?
For those unfamiliar with it, Slow Fashion Next is a platform for training and the dissemination of information on fashion, sustainability and business. The platform is referred to as a 'reference point in the sustainable fashion sector', which counts on 9 years of professional experience.
On the organisation's website it states that, on the one hand it supports all the companies, students and entrepreneurs who wish to have realistic training on fashion and sustainability in a business context, aiming to accelerate their learning process, whilst on the other hand giving visibility to all projects, brands and fashion brands that work with real sustainability criteria.
As a result of Slow Fashion Next's collaboration with Signus Ecovalor and many discussions between the two entities about the power of fashion, an opportunity for the tyre recycling sector was identified through the creation of Neomatique, an innovative space that gives visibility to design products made with recycled tyres. Neomatique helps facilitate access to the material and aims to create innovation and transformation centres for brands and designers that wish to use it.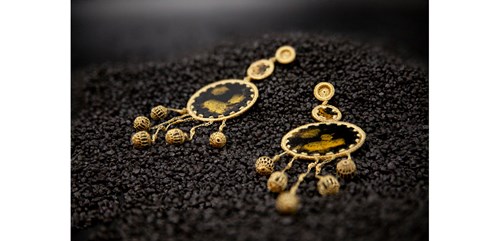 With that in mind, Slow Fashion Next and Signus Ecovalor began investigating all the various ways in which recycled tyres are used in both fashion and lifestyle, with Miriam Cano, a collaborator on the project, bringing a wealth of knowledge and ideas to the project. Following this, Gema Gómez, Director of Slow Fashion Next, charged Lucía de Gustín with the task of using the research and transforming this material into new pieces to highlight how end-of-life tyres can be transformed into stylish products.
The fruit of Lucía's efforts, research skills and eye for design can be seen in the bracelet, earrings and bag that were finally created.
Further information about Neomatique can be found on the platform's website www.neomatique.es, which is broken up into three sections: Neodesign, Origin and Research and Development.
The Neodesign section highlights some of the most innovative products made using recycled tyres from the pieces created by Lucía de Gustín to shoes by the basq company and Royo to the products produced by ECOALF and BUTback by Pilukids. The Origin section of the website allows designers and brands to learn about materials that are derived from tyres, whilst the Research and Development area identifies some of the most important research centres.