After a break caused by the pandemic, the TRAC Rubber Recycling Symposium returned to its biennial cycle with a conference held in Nova Scotia this October
The Rubber Recycling Symposium was opened by the President and CEO of TRAC, Carol Hochu, who highlighted that everyone attending is on a journey to sustainability. The focus of this year's event was then about sustainability as much as simply recycling.
The event was hosted by Divert NS (Nova Scotia). Stacy Breau, CEO of Divert NS, spoke about the success of the stewardship scheme in Nova Scotia, with a recovery rate of 88.5 per cent. Much of the recovered material is used as aggregate in road construction and engineering projects, with the balance going into tyre-derived fuel. Breau said that Divert NS aimed to transition from recycling to a refusal to waste materials.
Stewardship and Extended Producer Responsibility were a focus on the first day. The initial panel focused on the Canadian solutions, each province having a stewardship scheme tuned to its geographical needs – what works in Ontario is not the same as might be required in Saskatchewan or The Yukon. This was followed by presentations from three very different approaches to tyre management – Fredrick Ardefors spoke about the Swedish model, where SDAB has complete control of the market. Lina Goodman highlighted the challenges in Australia, where there is a voluntary stewardship scheme, and John Sheerin discussed the USA, where there is a free market.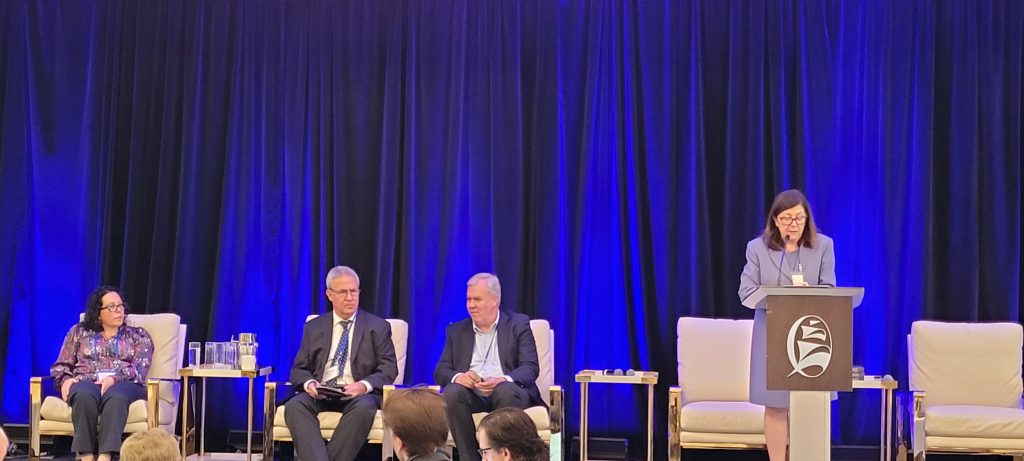 Of course, in these dynamic times, legislation had to be discussed; the two key topics here were the issues around replacing 6PPD, which has been proven to be harmful to the environment, and the European ban on crumb rubber infill – Speakers here were Jamie McNutt from the USTMA and Alex Van Gelgeren from the ETRMA.
There followed talks about sustainability in tyre manufacturing and market development opportunities for ELT – this latter topic being a perennial one that arises at every rubber recycling event – how do we increase demand for recycled rubber products?
The event closed with its now familiar CEO Panel, where CRM's Barry Takalou, Emterra's Emmie Leung and Pliteq's Paul Downey gave their perspective on the markets, opportunities and challenges that the industry faces. They looked at how obstacles could be removed, and the industry could become part of the Circular Economy solution.